Automated invoicing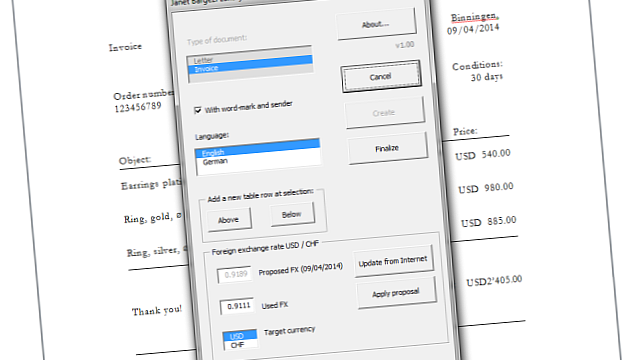 Contact me if you have a similar task.
Except for the business letter, the invoice is the most important type of written document in most companies. A little known fact is that not only Excel, but also Word can perform arithmetic operations. The advantage of Word is that even a sophisticated corporate design can be implemented without compromise.
In most cases, invoicing involves the following elements:
Summing up several individual items
Calculating intermediate results
Calculating VAT
Automatically setting the invoice date
Calculating the due date
In the present case, the customer asks for the option to switch between Swiss francs and US dollars. Additionally the following requirements were formulated:
Allowing for both currencies when editing
Allowing for different currency symbols (USD, $, CHF, sFr)
Automatically retrieving the current exchange rate from the Internet
Optional overriding the exchange rate suggested by the Internet
Converting those items not yet in the target currency
Consistent formatting (currency symbol, thousands separator, decimal places)
Similarly to how Word can retrieve CHF/USD exchange rates from the Internet, Word can automatically extract other information from the Internet. A classic example: a customer's address from the online telephone book.

Contact me if you have a similar task.
Trigonella Ltd., Basel
Machine Learning, Python, PHP, VBA – Databases – Statistical consulting – Automating Microsoft Office